06 October 2023
Autumn cleaning: how to clean your carpets and keep your floors clean?
Autumn is the perfect time to freshen up your home and prepare your space for the colder months ahead. However, this part of the year is a real challenge when it comes to cleaning, as we tend to bring home more dirt than usual: rain, mud, dead leaves, etc.
One of the most important tasks in autumn cleaning is cleaning carpets and upholstery. Carpets and upholstery easily accumulate dust, allergens and stains over time, and good cleaning not only helps to keep them in good condition, but also contributes to a clean, bacteria-free environment. 
In this article, we are going to give you tips on how to effectively clean your carpets, rugs and floors, thanks to Hagerty cleaning products that are easy to use and help you achieve dazzling results.
Cleaning carpets, textiles and rugs
Vacuuming carpets and upholstery 
The first tip for cleaning carpets and upholstery is to start by vacuuming them thoroughly. Vacuum slowly in different directions to remove dust and any residue deeply embedded in the fibres.
Remove stains from textiles
Stains on carpets and textiles are inevitable, especially if you have children or pets. The key to removing them effectively is to treat them as soon as they occur. Use a stain remover appropriate for the nature of the stain. Avoid rubbing vigorously, as this can damage the fibres. Gently dab the surface with a clean cloth until the stain disappears.
Stain remover spray
Hagerty offers a stain remover spray for water-washable textiles called SOS Spot Remover. Simply spray the formula onto the stain, rub gently if necessary with a soft cloth, then vacuum or machine wash the fabric where possible. The product quickly removes red wine, coffee and dirt stains.
Deep cleaning of carpets and rugs
Once a year, we recommend deep cleaning carpets and other furnishing textiles (sofas, carpets, chairs, car seats, etc.). You can do this yourself, by hiring a hoover or by calling in a professional. Deep cleaning removes dirt, dust mites and other bacteria that have built up over time.
Shampoo to use with an injection-extraction machine
Hagerty offers a shampoo to use with an injection-extraction hoover (called « Blue H Machine », available in some hardware stores around your city). This perfect solution injects a mixture of water and shampoo into textiles to remove encrusted dirt. The vacuum extracts dirt and excess moisture, leaving your upholstery fresh and clean.
A carpet cleaner, also known as a "shampooer", is a highly effective tool for cleaning not only carpets and rugs but also sofa and armchair covers. The results are immediately visible! Water and soap (5* Shampoo) wash and clean, and all you have to do when you're finished is empty the dirty vacuumed water into the container. It's simple and easy. 
Dry Shampoo for delicate textiles 
If you have delicate upholstery, such as wool or silk, or an oriental rug, Hagerty Dry Shampoo is ideal. It maintains and refreshes your furniture while preserving the integrity of the fibres. Sprinkle the product over the surface, distribute it and work it in with a soft brush, then vacuum up the remaining powder.
The product will leave textiles with a refreshing scent and you'll have sucked up the dirt. It's perfect for gently cleaning mattresses, for example. 
Cleaning foam for washable fabrics
If the surface is washable with water, you can use Hagerty Foam Shampoo to clean your upholstery. The foam contains anti-salting agents that remove dust and protect against re-fouling without altering the original texture or colour.
Spray a thin layer of product about 50 cm from the surface. Gently rub in the shampoo with a sponge, concentrating on the most difficult stains. Leave to dry, then brush the fabric in the direction of the pile before vacuuming the completely dry surface.
Odour Eliminator Spray
Hagerty has developed Odour Eliminator, a spray that eliminates and destroys unpleasant odours. All year round, give your textiles a breath of fresh air by spraying them after a meal or a party at home. Suitable for all types of washable textiles: rugs, carpets, sofas, chairs, clothes, etc.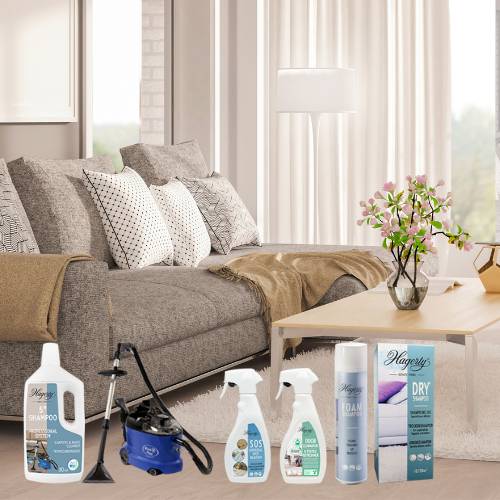 Shake your textiles in the window
A simple but effective trick is to shake your upholstery outdoors. If they are small and manageable enough, take them to the window and shake them vigorously to remove the dust. This will help reduce the amount of dirt you need to vacuum up. Don't hesitate to do this once a week. 
Opt for a doormat at the front door
It can be useful to place a mat inside and outside your front door to catch as much dirt and moisture as possible before it reaches your indoor carpets and floors. This will save you having to vacuum every day. 
Cleaning hard floors
As well as cleaning carpets and upholstery, don't forget to look after your floors during the autumn. Parquet, marble and natural stone floors also deserve special care.
Shampoos for wood, marble and natural stone floors 
Hagerty offers shampoos specially formulated for these surfaces. They gently remove dirt, stains and footprints, while protecting the surface. Whether you have a wood floor, elegant marble floors or indoor or outdoor natural stone floors, Hagerty shampoos will help you get them ready for autumn.
Wood floor cleaning 
Hagerty Wood Care is a product for cleaning natural wood floors. It removes dirt, stains and odours and makes your laminate floor shine. It also contains essential oils that give sealed, waxed, oiled or painted floors a delicate, fragrant scent.
Marble floor cleaning
Hagerty Marble Care is a shampoo for cleaning and caring for marble and waxed concrete floors.  It removes stains and odours and can also be used to care for marble worktops or bathrooms. 
Its formula, enriched with rock crystal, restores the original shine to the surface and leaves no trace of limescale on dark floors.
Natural stone floor cleaning
Natural Stone Care cleans and cares for indoor and outdoor floors made of sandstone, terracotta, slate or zellige.
The shampoo removes dirt and protects against stains thanks to its formula enriched with black soap and linseed oil. Thanks to the plant-based soap and lemon essential oils, you can give your home a pleasant scent.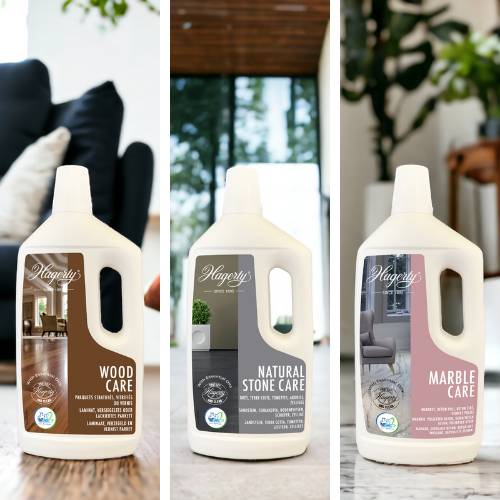 Autumn cleaning is a crucial step in keeping your home clean and healthy. By following these cleaning tips, you can enjoy a sparkling interior for a long time to come. 
If you have any questions, please don't hesitate to contact us: hagerty@hagerty.world