18 November 2022
How to get rid of kitchen odours?
The festive season is about to begin! Have you already decorated your home? Have you chosen the menu? Are the presents already under the tree? At Hagerty, we believe that a well-prepared party is a successful party. 
Don't forget to take care of your interior to welcome your guests or to offer the perfect care for a beautiful piece of jewellery or a silver place setting. We offer cleaning products that make it easy to give your table, decorative objects, precious jewellery, wooden or textile furniture or floors a shine. Do not hesitate to visit our website www.hagerty.world to discover the whole range.  
In short, when you think of end-of-year meals, you think of cooking smells. Obviously, during these events you will surely have to prepare food and the smells will invade your home. Indeed, the season of outdoor meals is over. 
If you want to find out how to get rid of stubborn odours on textiles, you've come to the right place!
How to get rid of stubborn odours? 
Following the festivities, your interior and textile furniture will certainly have encapsulated various odours; musty, cooking, smoke or various stains, and you will need to find a solution to get rid of them. 
Grandmother's recipes 
There are various methods for dealing with bad smells. You can find a lot of grandmotherly tips and natural odour killers on the Internet. From baking soda to white vinegar, or from lemon to coffee grounds, you will certainly find something that suits you.
However, keep in mind that using these household products is an environmentally friendly method, but often not very effective. Instead, we recommend that you use a professional product that is specifically designed to destroy odours in your home.
Odour Eliminator spray 
To make your life easier, Hagerty has developed an odour eliminator spray for your textiles. The Odour Eliminator allows you to neutralise bad odours and eliminate them easily, thanks to its high quality trigger which ensures a fine and precise diffusion on the whole surface to be deodorised.
Moreover, this product is made with 100% natural ingredients, minimising the risk of allergies and can therefore be used safely in an environment with children, pets, plants, etc.
This product destroys the molecules responsible for unpleasant odours such as tobacco, smoke, food (frying, grease, etc.), animal secretions, vomit, sweat, or even mould. Indeed, odours tend to accumulate in the fibres of textiles and this can be felt for several days for the most persistent odours. 
The formula does not mask bad odours, but encapsulates them and eliminates them for a long time thanks to its natural fragrance. This high-performance odour eliminator can be used on all types of textiles. 
The Odour Eliminator gives your fabrics the freshness of clean laundry, especially for non-washable or hard-to-wash textiles such as carpets, curtains, upholstery and mattresses. It can even be used on car seats, or accessories such as hats or bags. It does not alter texture or colour, respects the fibres and does not leave any residues or marks.
How to use it? Simply shake the bottle well and spray the formula directly onto the desired textile surfaces. Then let it dry thoroughly.
You now have THE product you need to use after meals with friends and family, or even for everyday use, to freshen up your home. If you have any questions, please contact us at hagerty@hagerty.world.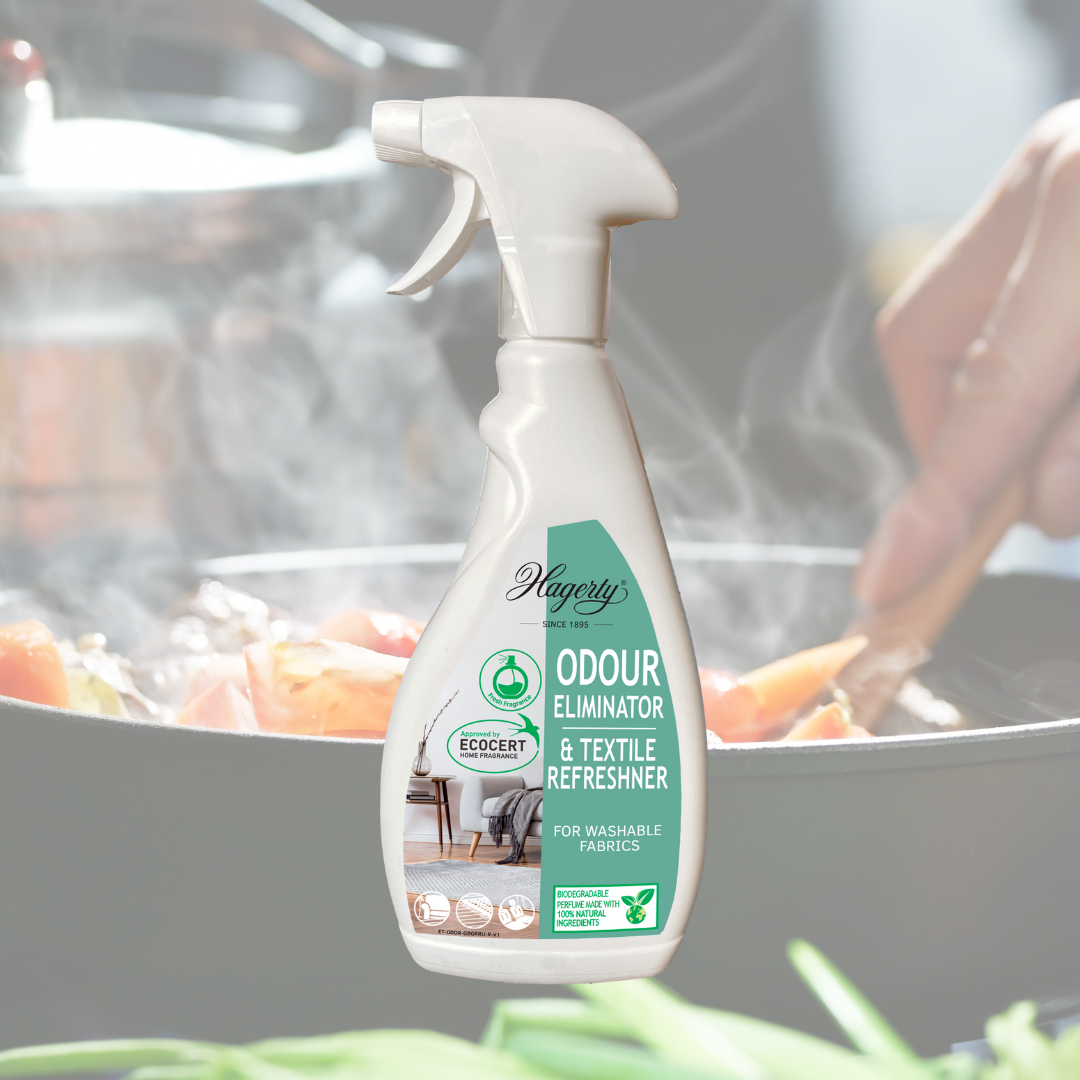 How to remove stains from a tablecloth? 
Speaking of end-of-year meals, you will certainly not escape stains. Indeed, whether it is on your tablecloth, on the sofa or on the carpet, you will have to find a quick way to remove them. 
We recommend Hagerty's S.O.S Spot Remover spray to get rid of stains quickly. It thoroughly cleans and maintains carpets, upholstery and textiles very quickly, without damaging the fabric. 
This product serves as an immediate remedy for marks, stains or marks on fabrics.
If you want to thoroughly clean your carpets, textiles or fabric furnishings, you can use the stain remover spray as a pre-treatment, before using the injection-extraction machine (Hagerty BLUE H) and the 5* Shampoo Concentrate.