21 October 2022
How to care for leather car interiors ?
We probably all own leather objects and for some, the interior of their car is made of it (seats, steering wheel, armrests, gear lever,...). However, we still need to know how to maintain it. It is important not to use just any cleaning product, otherwise the surface will be damaged.
In this article, discover some tips for cleaning leather. 
What's the best way to clean leather car interior?
Ideally, you should dust and remove crumbs or other deposits from your leather seats every fortnight. You can use either a hoover with a special nozzle or a soft cloth. 
It is also important to moisturise the leather to nourish it and to keep it looking like new for as long as possible.
Leather upholstery requires special care and specific products for its maintenance. Here is a list of tips to help you care for your leather items:
1. Start by checking the leather surface for damage. If the area has holes or scratches, the cleaning product you are going to use may seep through and this is not desired. It would be better to repair this before cleaning. 
2. You can then start vacuuming your leather upholstery, carefully removing all the dirt from every corner of it. Don't forget any creases and the space between the seat and backrest. 
3. Then proceed with the cleaning. If you have any doubts, ask the garage that sold you the car for advice. Alternatively, you can use a soft cloth with a special leather cleaner and finish with a nourishing spray or cream. In theory, you should feed and polish your car's leather once every three months. 
4. And that's it, your leather upholstery is clean, smells good and looks great.
How often should leather be cleaned? 
How often you should clean your car's leather will depend on how often you use it. Even though leather is a strong and fairly durable material, it can start to crack and wear. Therefore, it is important to maintain it in the long term to keep it looking as good as it did in the early days. 
We recommend frequent vacuuming of your leather furniture and a thorough cleaning twice a year using suitable products.
Which product should you use to maintain your leather objects? 
To avoid damaging your objects or the interior of your car, we recommend that you use products that are specific to leather cleaning. Indeed, too aggressive products could create cracks, rings or even stains, which will be difficult to repair.
Therefore, we advise you to use products specially dedicated to leather care such as Hagerty products. Indeed, we offer a cleaning and nourishing cream and spray.
Finally, it is important to apply a waterproofing product to leather objects that are likely to come into contact with water (shoes, bags, jackets, etc.). It also helps to protect against stains.
A cleaning cream for leather: Leather Care
Clean your leather seats, sofas, shoes, jackets, bags, bracelets or belts very easily with Hagerty Leather Care. The lotion cleans, polishes and cares for the leather.  
Stains are removed and the leather is moisturised and supple in no time. Simply apply the cream gently to the surface with the sponge provided and gently buff your leather object. Allow to dry and then wipe off any residue with a soft cloth.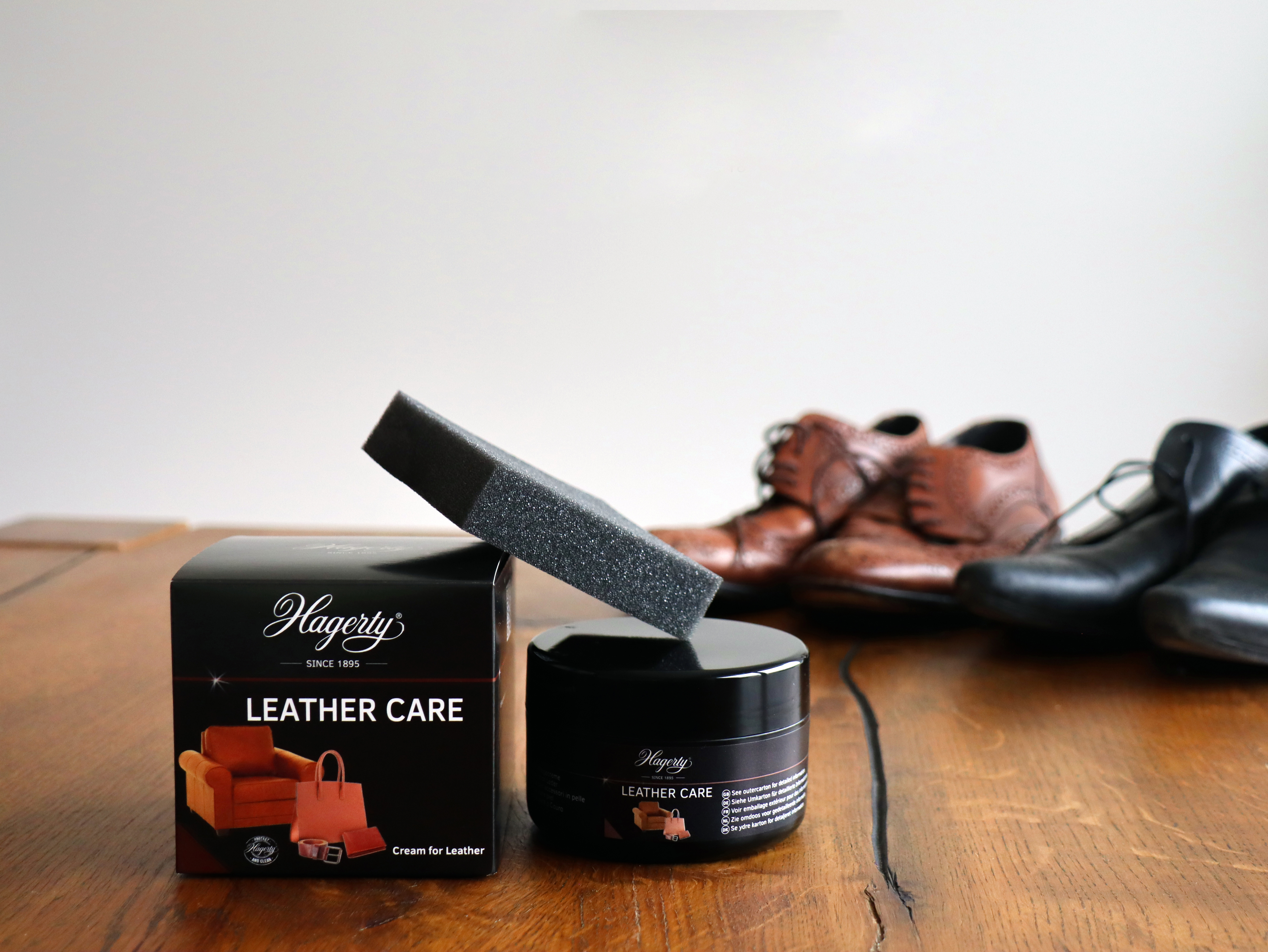 Leather care spray: Leather Spray
Restore the shine to your leather furniture, accessories or clothing with Hagerty's Leather Spray.
With its formula containing Vaseline, the product restores the suppleness of leather, nourishes and protects your objects. The spray is easy to use and apply and can be used on all types of leather except aniline, suede or nubuck.
Simply shake the bottle, spray the leather from 15 cm and then wipe gently. Finish by cleaning the sprayed surface with a damp cloth.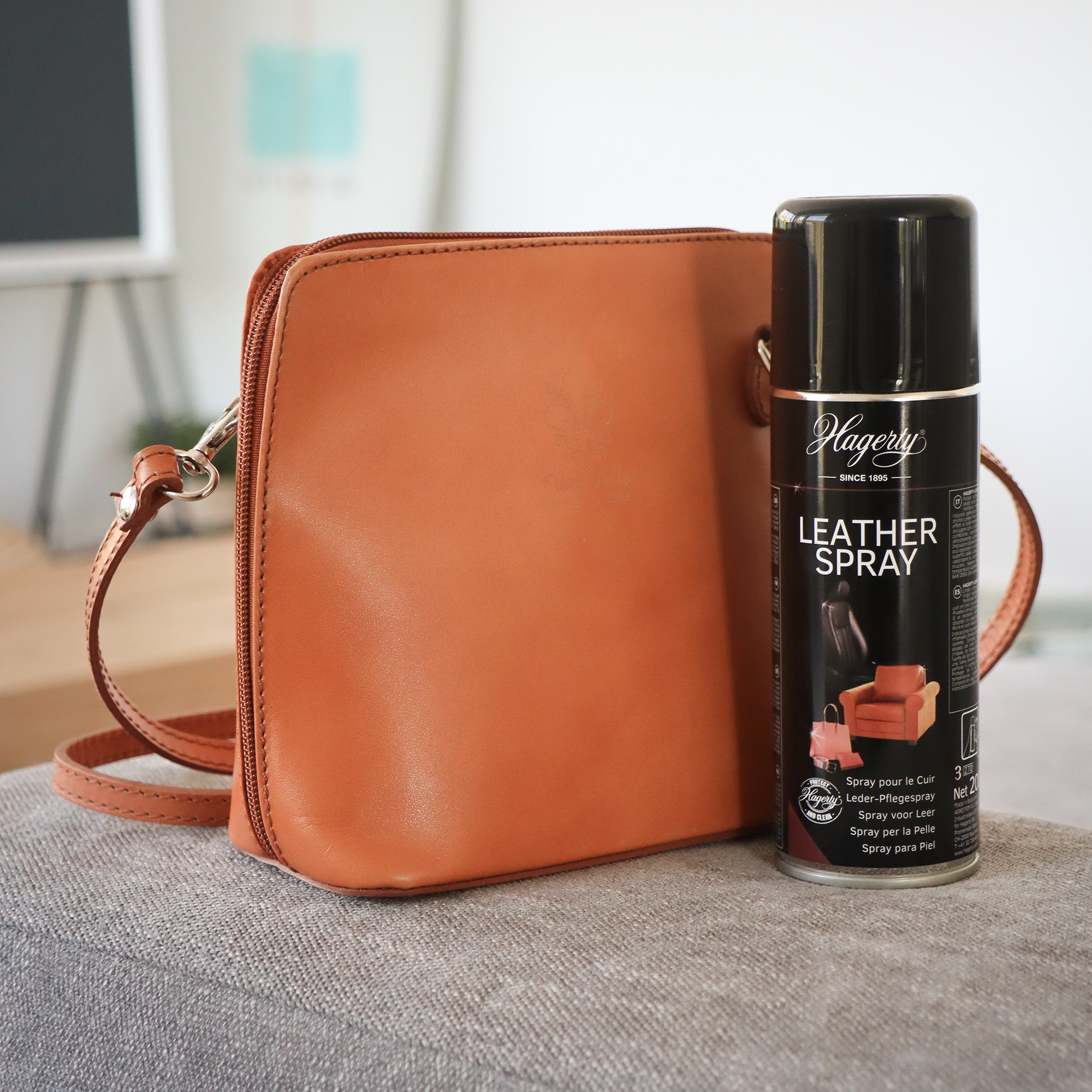 How do I clean Nubuck, Suede or Suede leather? 
These leathers require special care, for which you will need to purchase a specialised kit. Do not hesitate to ask the seller or manufacturer for information to avoid damaging your object. 
In general, this is what you will need:
- A suede and nubuck brush to remove all dust and dirt.
- A suede eraser for dry cleaning.
- A cleaning and nourishing spray for suede and nubuck leather.
A tip: each type of leather is different, so it is best to test products on inconspicuous areas to see how they look before cleaning the whole surface.
If you need more information about leather cleaning, please contact us at hagerty@hagerty.world.