10 May 2022
How to use the Hagerty Blue H Machine?
Hagerty Blue H injection-extraction machine is ideal to clean your carpets, rugs, car seats and upholstery.
Before cleaning your goods with the Hagerty 5* Shampoo and the Blue H machine, we advise you to refer to the manufacturer of your carpet, mattress, sofa, etc. for cleaning advice.
INSTRUCTIONS
1. Vacuum thoroughly the surfaces with a vacuum cleaner, as the Blue H machine is not suitable for this purpose.
PRE-TREATMENT OF STAINS
1. If necessary, pre-treat stains and walkways with Hagerty S.O.S Spot Remover.
2. Spray well and work in with a sponge or soft brush. 
USE OF THE MACHINE
1. Connect the hose and the pipe to the machine.


2. Using the white bucket, fill the tank with the mix of warm water and Hagerty 5* Shampoo (for the exact dosage, see label on the bottle).


3. Switch on spraying and vacuuming functions.


4. Carpet cleaning:
- Place the floor nozzle approximately 1 metre forward, press the lever to spray and slowly pull back the suction rod. Now release the lever.
- Immediately vacuum the cleaned area twice without spraying.
- Work on overlapping strips.
- As soon as the tank is empty, switch off both switches.


5. Empty the bucket (and refill the tank if necessary and replace the bucket and lid).


6. Clean the machine: 
- Vacuum any remaining liquid from the tank and empty the bucket.
- Rinse the machine with clean water to preserve the spray pump.
- Finally, clean the machine thoroughly after use.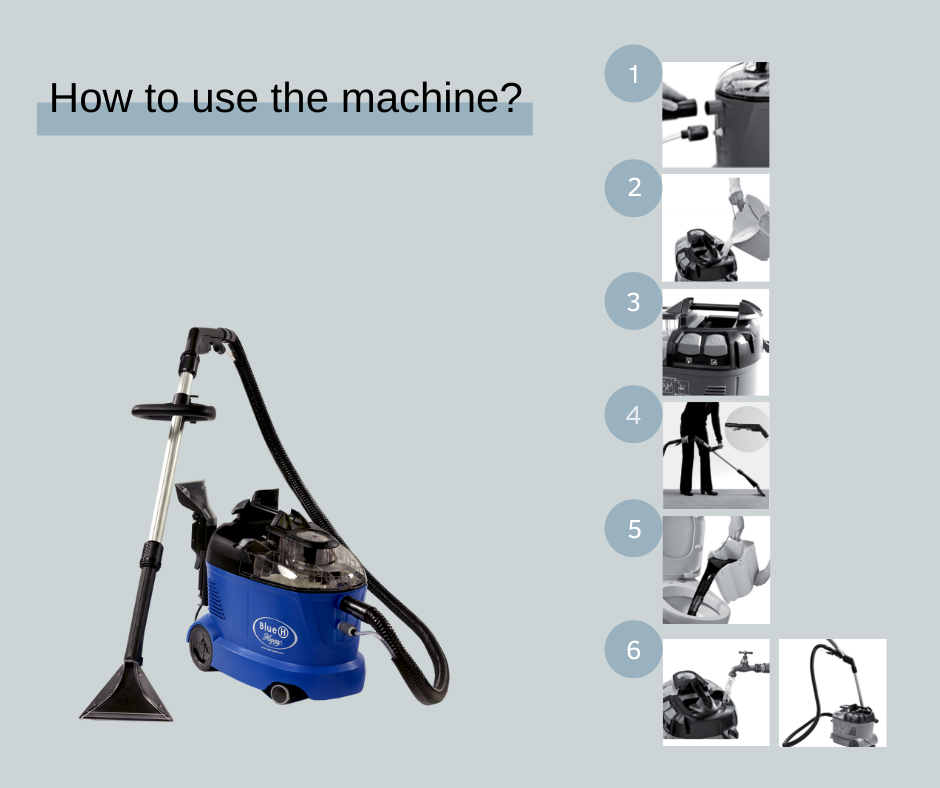 FURNITURE AND CAR UPHOLSTERY
With the specific hand nozzle, you can also clean furniture, car upholstery, stairs and mattresses in the same way as above. Treat in strips of approximately 30 cm. 
HAGERTY 5* SHAMPOO
• Powerful cleaning and fresh scent
• Does not contain soap and therefore causes less rapid re-soiling
• Phosphate- and chlorine-free, pH-neutral      


WARNING: only Hagerty 5* Shampoo can be used in the machine. No other cleaning agents are allowed, as they damage not only the machine, but also your carpet or upholstery!