21 March 2023
Spring cleaning: how to clean your garden furniture?
The beautiful days are coming, and we will soon be able to enjoy our outdoor spaces. But Spring means a big clean-up. Indeed, before settling comfortably on your garden lounger, it is time to give a shine to your fabrics and outdoor surfaces. 
Thanks to Hagerty and its cleaning products, taking care of your patio or balcony is a breeze. To help you enjoy your outdoor space quickly, here are some cleaning tips.
How to clean outdoor mattresses and cushions?
Cushions are an important part of your outdoor space, as they add colour and comfort to your furniture. However, if they have not been protected from the bad weather over the winter, they will have accumulated dirt, stains and odours. 
Whether it's the cushions on your sun lounger or chairs, your garden sofa or any other outdoor fabric, we recommend giving them a thorough clean. 
First, shake the cushions to remove dust and other dirt. Then use a special outdoor fabric cleaner to remove stubborn stains and odours.
Sometimes cushions or mattresses are not removable, so cleaning must be done directly on the surface. In addition, some covers are not washable with water, so dry cleaning is required.
The best textile cleaners
Hagerty offers various cleaning products for fabrics and textiles to care for mattresses, cushions, or other outdoor furniture. There is a stain remover spray, a dry shampoo, or a cleaning foam. 
You can also rent a Blue H hoover machine (injection – extraction system) and get the Hagerty shampoo that goes with it to give your sofas, carpets and textile seats a deep clean.
Dry upholstery shampoo
To clean a delicate and non-washable textile, it is best to give a dry cleaning to your fabrics. Hagerty offers a Dry Shampoo, a dry powder that allows you to restore freshness to your furnishing textiles (mattress, pouffe, armchair, carpet, cushion...).
This product cleans and absorbs dirt without damaging the surface and revives the fibres and colours. The fabrics become clean again and are protected from dust mites.
How does it work?
- Vacuum the entire area to be cleaned to remove dust.
- Distribute Hagerty Dry Shampoo evenly over the area to be cleaned.
- Work the product into the fibres by gently rubbing the surface with a (clean, dry, and soft) sponge or brush.
- Leave for 30 minutes, then vacuum thoroughly over the entire surface to remove the powder.
Highly effective stain remover spray
The grilling and picnicking season is approaching, and often stains appear after these beautiful days. It's easy to get dirt on your clothes or garden furniture and it can be difficult to remove. 
Hagerty offers a very effective stain remover for fabrics and textiles, the SOS Spot Remover. This cleaning spray serves as an immediate remedy for unwanted marks, stains or marks. For example, it removes coffee stains, wine stains, grease, and other unfortunate stains.
How to use it?
- Shake the bottle well and then spray Hagerty S.O.S Spot Remover evenly over the area to be treated.
- Gently rub the liquid into the surface with a sponge, soft brush or non-abrasive cloth.
- Then: allow to air dry and vacuum the dry surface; or: machine wash (follow manufacturer's washing instructions).
Foam fabric cleaner 
Hagerty offers a foam cleaner for washable fabrics, the Foam Shampoo. This product allows the maintenance and removal of stubborn stains, such as grease (from grills or sun cream), dust and stains, without damaging the fabric.
This cleaning foam for upholstery and delicate fabrics is effective and does not leave marks on washable fabrics or carpets. The formula can be used on indoor and outdoor furniture (sofas, chairs, cushions, carpets, curtains,...).
How to use the product?
- Vacuum the entire area to be cleaned to remove the dust
- Shake the aerosol and spray a thin layer of Hagerty Foam Shampoo about 50 cm from the surface
- Rub the shampoo in with a soft sponge, concentrating on the most difficult stains.
- Allow to dry, then vacuum the completely dry surface.
Odour neutraliser
During the summer, smoke from the grill, frying, sweat, etc. will cause bad odours on your upholstery. To remedy this, use an odour destroyer spray that will remove unpleasant odours.
We recommend using Hagerty's Odour Eliminator. Made from 100% natural ingredients, the product freshens up textiles, especially those that can get wet but are difficult to wash (such as cushion covers, mattresses, seats or even hats, caps, and bags).
The product does not alter the original texture or colour, respects the fibres, and does not leave any residue or marks.
How to clean your natural stone floor?
Maintaining a natural stone patio, such as terracotta, tiled, slate, zellige or sandstone, may seem difficult, but it is actually quite simple if you follow the right steps. 
Start by sweeping the surface, removing leaves, debris and other dirt. 
Next comes the preparation of a cleaning solution, which will restore as much of the original shine and lustre as possible, while respecting the surface. With Hagerty's Natural Stone Care shampoo, simply mix the product in water (25ml of product to 4L of warm water), mix well, then start cleaning with a heavy-duty brush.
Allow to dry thoroughly and the floor is clean and protected against re-fouling.
You can also use a high-pressure cleaning machine but be sure to set the pressure appropriately to avoid damaging the stones.
Finally, for the maintenance of natural wooden floors, refer to Hagerty Wood Floor Care and for the maintenance of marble tiling or polished concrete floors, consult Hagerty Marble Care.
Cleaning of steel and metal surfaces
Apart from rattan, plastic or wooden chairs, many outdoor furniture items are made of metal, steel, or stainless steel.  However, although stainless steel surfaces can add a modern touch to your outdoor space, they are often difficult to clean.
Indeed, fingerprints and other dirt are quickly visible on this type of metal, and it is practical to be able to get rid of them quickly. For this purpose, Hagerty offers a microfibre glove especially for cleaning stainless steel, stainless steel, aluminium and metal surfaces. 
The double-sided glove is reusable, machine washable and only requires a few drops of water to clean. Say goodbye to unwanted marks on metal table legs, stainless steel railings or other surfaces, such as the fridge or oven.
For cleaning stainless steel, steel, or chrome decorative objects, refer to the Hagerty White Metal Polish lotion. Complete the cleaning with the White Metal Duster, which restores shine and provides an anti-tarnish effect.
How to clean a glass garden table?
A glass table can add an elegant touch to your outdoor area, but dirt and stains can quickly show up (dust, pollen, fingerprints, etc.). However, to clean and maintain a glass table quickly, make sure you use a solution that does not damage the surface.
After winter, if the surface is very dirty, use a cleaner specially designed to remove stubborn stains.
Then, for daily cleaning of your glass or mirror surfaces, we recommend using the Hagerty Microfibre Glove for Glass. It will remove dirt and dust quickly and efficiently. It is also environmentally friendly, as it only requires a few drops of water to clean and is machine washable.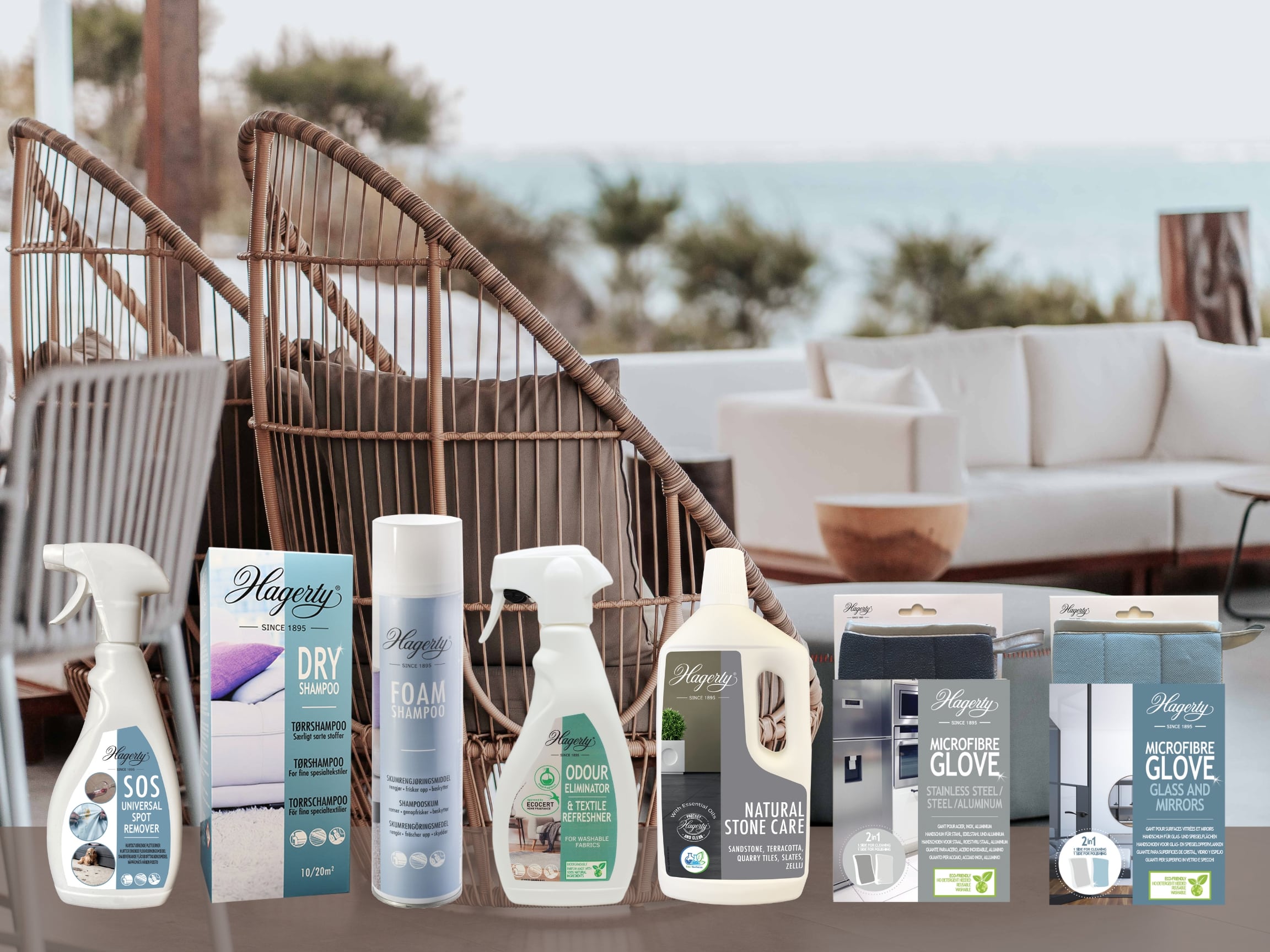 In conclusion, spring cleaning is important because it will allow you to fully enjoy your space as soon as the warm weather arrives. By cleaning regularly, you can ensure that your outdoor furniture will last over time.