31 August 2023
How to clean and shine your jewelry? The cleaning bath solution
Jewelry, Watches & Accessories
Jewellery can be much more than a simple accessory. It can tell stories or remind you of precious memories. Over time, however, they can lose their original shine through the accumulation of dirt, perspiration and beauty products. Fortunately, there is an effective solution to bring your favourite jewellery back to life: Hagerty cleaning baths.
The importance of regular cleaning for sparkling jewellery
Jewellery adorned with precious stones requires regular care to maintain its beauty and lustre. Cleaning jewellery not only looks good, it also helps to prolong its life by preventing the build-up of residues, such as dirt, lotions, perfumes and even mineral deposits in water, which can damage the materials over time.
The liquid solutions: Hagerty jewellery cleaning baths
Hagerty, a well-known brand in the field of jewellery care, offers a range of jewellery cleaning products specially designed for each type of metal and precious stone. The cleaning bath solution is a quick and effective way to revive the shine of your jewellery without risking damage.
Each jar (170ml) contains a small basket for placing the jewellery inside for quick and easy cleaning. It gives almost instant results and won't cause micro-scratches or mark s on your jewellery.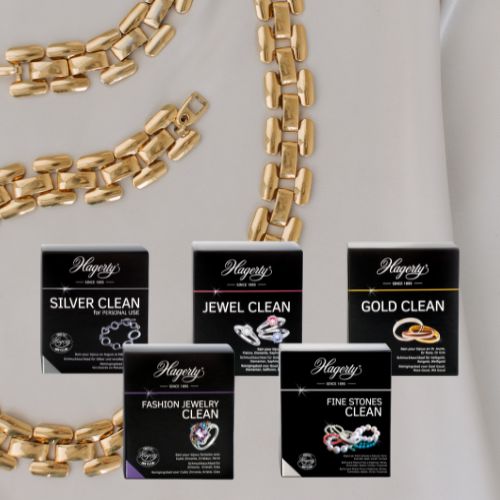 Why choose Hagerty?
When it comes to caring for precious jewellery, the quality of the cleaning products used counts. So opt for quality care you can trust in. Hagerty products stand out for their well-established reputation and commitment to formula performance. Discover how these products can transform your care routine and preserve the beauty of your favourite pieces.
A formula for each type of jewellery
What sets Hagerty cleaning products apart is their ability to target the specific needs of each type of jewellery. In fact, the brand has developed 5 different dip cleaning solution. 
For example, if you own jewellery with precious stones such as diamonds, rubies, sapphires or emeralds, Hagerty offers specially designed formula to gently clean these stones while eliminating impurities that could dull their brilliance.
Similarly, if you own silver jewelry, you probably know how much silver can tarnish over time. Hagerty silver cleaning product works to remove oxidation and restore your pieces to their original silver lustre.
Find below all the cleaning formulas available in bath form (Clean):
Silver Clean - 
silver jewelry cleaner
The Hagerty Silver Clean formula restores the shine of tarnished silver and blackened rings, bracelets and other silver or silver-plated jewellery.
The cleaning bath protects the metal and removes any oxidation. In no time at all, your jewellery will regain its original shine and lustre.
Jewel Clean - 
diamond jewelry cleaner
The bath thoroughly cleans and cares for precious stones, diamonds, sapphires, rubies, gold and platinum. Perspiration, cosmetics and tarnish are gently removed and your delicate gemstones regain their brilliance.
Take care of your diamond ring or other precious object such as brooches, necklaces or earrings that contains gemstones. The product contains a small brush that you can use to gently clean the smallest corners of your set jewellery.
Gold Clean - 
gold jewelry cleaner
This product thoroughly cleans and cares for yellow gold, white gold and rose gold jewellery. The Gold Clean formula restores radiance to rings, bracelets and other gold jewelry.
It's fast-acting, effective and won't damage your jewellery.
Fine Stones Clean - 
pearl jewelry cleaner
The formula gently cares for fine and organic stones, such as pearls, emeralds, opals, corals and turquoise. 
The gentle bath, made with glycerine and plant-based solvents, protects pearl jewellery and removes perspiration, make-up, perfume and other dirt.
Fashion Jewellery Clean - 
costume jewelry cleaner
This care cleans costume jewellery with zirconium, crystal or glass. The dirt is gently removed and the jewellery regains its shine.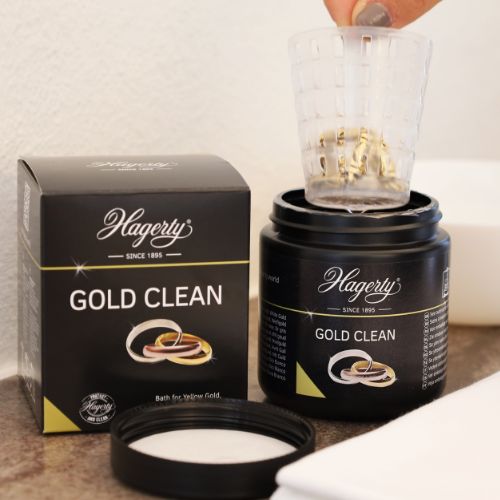 How to use Hagerty cleaning baths?
The cleaning process is very simple and effective:
1. Place the piece of jewellery in the basket present in the jar.
2. Immerse the basket in the bath.
3. Leave for 2 minutes.
4. Rinse well with clear water.
5. Dry with a soft cloth.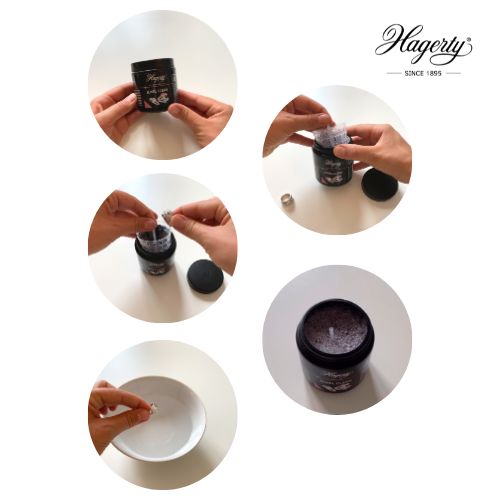 For perfect shine, Hagerty recommends combining this cleaning with a 100% cotton cloth, impregnated with a specific formula for each type of precious metal and stone. 
The cleaning fabric polishes and shines the jewellery, and can be used for quick and daily cleaning. Find all our jewellery cleaning and polishing cloths in our online shop. 
As you will have realised, preserving the beauty and brilliance of your jewellery requires regular and appropriate care. Hagerty cleaning products offer a practical and effective solution for giving your jewellery a second life by removing the impurities that have accumulated over time. Let your memories shine and wear your jewellery in all its splendour thanks to Hagerty.
We remain at your disposal if needed: hagerty@hagerty.world