18 April 2023
Wooden furniture maintenance and cleaning: what product to use?
If you have raw wooden furniture and you want to restore their shine, you've come to the right place. Wood brings warmth and character to your interior, but over time, the object may lose its shine.
How to maintain your wooden furniture?
Different types of wood 
Before you start, you will need to know the base of your wooden furniture; is it oak, teak, pine, walnut, acacia, or beech? Is the surface of the furniture or object to be cleaned raw wood, waxed, or varnished? Indeed, it is important to find out about the appropriate care to give to your furniture in order to maintain its beauty and durability over time.
Maintenance methods
Each type of wooden furniture, such as a table, coffee table, chair, shelf, or TV stand, requires specific maintenance if you want it to last over time.
Here are some basics for maintaining your wooden furniture:
• Clean them regularly, but gently
• Use appropriate cleaning products
• Apply a protective product (varnish, oil, wax, etc.)
• Protect the surface from sharp objects
• Avoid exposing them to sunlight and moisture, as well as shocks and scratches
Wood cleaning products
Do you have antique furniture or wooden furniture that deserves to regain its shine? To do this, Hagerty offers two products specifically designed for the maintenance and cleaning of natural wood in its range.
Please note, it is always recommended to test the product on a small, inconspicuous area of the furniture before using it on the entire surface to avoid potential damage.
Cream: Hagerty Wood Care
Clean your wooden objects thoroughly with Hagerty Wood Care cleaning cream. This cleaning product removes dirt and stains easily, thanks to the sponge provided.
The product cleans, cares for, and nourishes all types of wood. Wood Care makes furniture and accessories shine thanks to the Teactona Grandis wood essence, which contains antioxidants and has effective purifying properties.
The polish protects the surfaces for several weeks and adds a pleasant and delicate fragrance.
How to use the product?
• Dust the surface
• Apply the cream to the wood gently using the sponge
• Rub thoroughly to ensure a successful long-term effect
• Polish and wipe with a soft, dry, and clean cloth
• No need to rinse
Aerosol: Hagerty Wood Spray 
Hagerty Wood Spray cleaning spray is a quick and easy way to clean, nourish, protect, and restore shine to wooden objects.
The formula contains natural Carnauba waxes and is safe for all types of wood, light or dark in colour, matt or glossy.
How to use the product?
• Shake the product
• Spray the surface to be cleaned from 15 cm away
• Wipe carefully with a clean cloth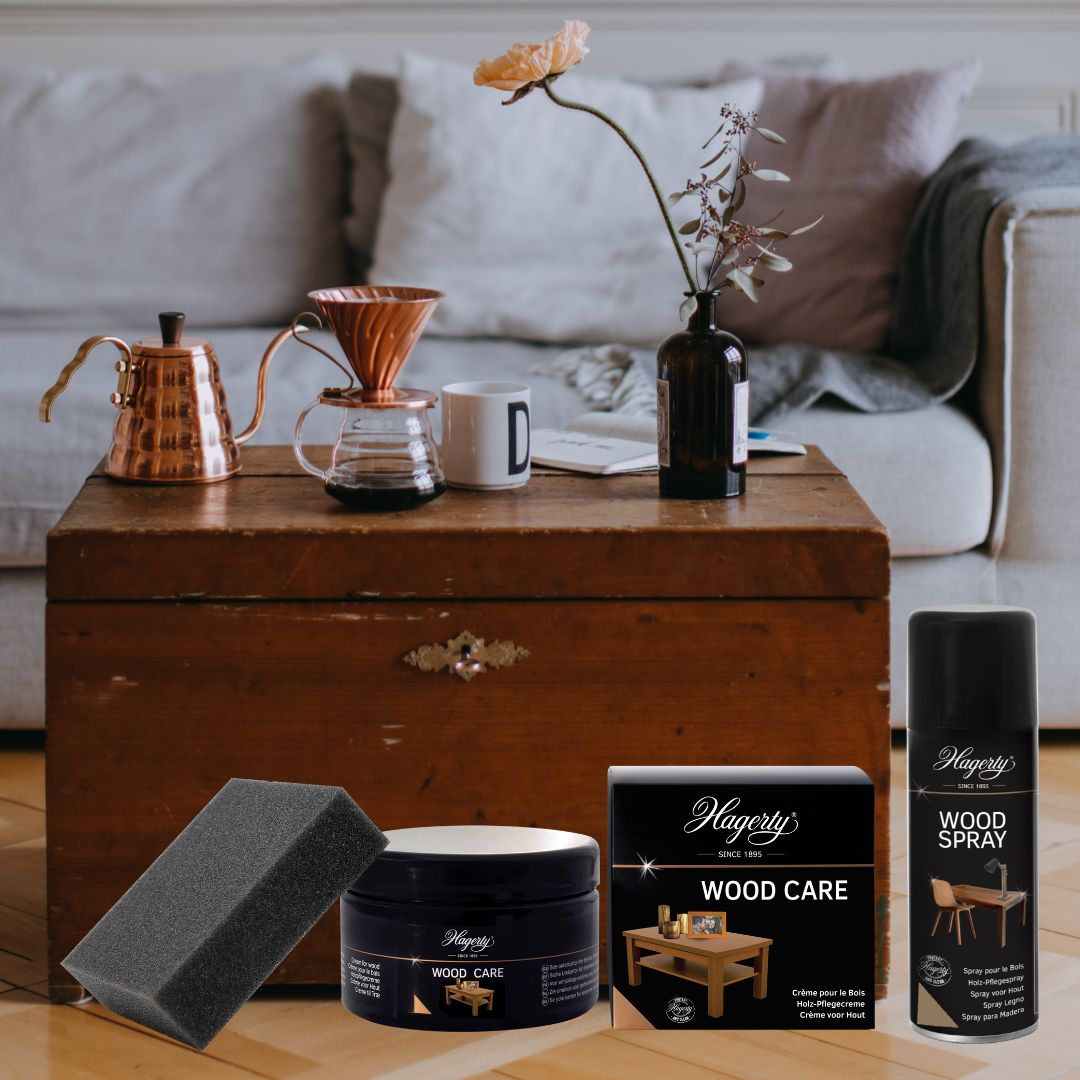 Natural products 
Natural products are gaining popularity in cleaning blogs. Indeed, for wood care, some websites suggest using linseed oil, white vinegar, lemon, or black soap.
Although these are better for the environment, it is strongly recommended to use products specifically designed for wood maintenance. Firstly, because the effectiveness of the developed products will be better, as these formulas clean deeply and remove stains and dirt.
Secondly, specific cleaning products usually contain protective agents (such as oils or waxes) that help preserve wood over time.
Moreover, industrial products are designed to be compatible with the finishes commonly used on wooden furniture, such as varnish, lacquer, oil, or wax. They are thus less likely to cause damage or leave unwanted residues compared to natural products that may not be as effective.
First, an important point is ease of use. It is generally more interesting to opt for a product that is easy to use, with clear instructions, rather than a formula to develop oneself and whose results are uncertain.
In summary, professional products like Hagerty's will be more effective, easy to use, and will help your solid wood furniture last over time thanks to the protective agents they contain. You can also consider using wood furniture oil or wax.
Common mistakes to avoid when maintaining wooden objects
At first glance, cleaning a natural wood object may seem easy, but there are frequent mistakes made.
First, it is important to avoid using aggressive chemicals such as bleach, ammonia, or other abrasive cleaners. These will damage the wood surface and likely make it dull or discoloured. Also, be careful not to clean the furniture with a too rough sponge, as it may scratch the surface.
Furthermore, wood and water do not mix well. Therefore, it is important that you do not use too much water during cleaning to avoid it penetrating the wood and causing swelling or other deformations. Also, avoid letting water stagnate on the surface, and make sure to wipe it off quickly if it happens.
Finally, it is not recommended to place wooden furniture in humid rooms (such as a basement or garage) or in direct sunlight (near a window). If you need to store wooden items, consider protecting them with appropriate covers to avoid scratches and dust accumulation.
It is always recommended to consult the manufacturer of the object, who will be in the best position to provide specific maintenance methods.
Now you know how to take care of your wooden furniture and objects to keep them in good condition and give them a second life. We remain at your disposal if needed: hagerty@hagerty.world.