22 June 2023
How to store silverware? Your practical guide
These days, antique objects are becoming more and more fashionable and add a certain prestige to our homes. It's great to be able to give a second life to those silver, bronze, pewter or steel pieces that our grandmother kept in the back of her cupboard. However, the trick is to restore the precious metals to their original lustre.
In this article, you'll find the best advice for maintaining, cleaning and preserving silver objects and cutlery. Thanks to Hagerty products, you'll see that it's pretty simple to look after them. 
How to care for silver cutlery?
Whether you've inherited it or bought it, you'll need to look after it regularly if you don't want tarnished silver cutlery on your beautiful dining table. But how can you clean and store your silverware easily?
Why does silver turn black?
Let's start at the beginning and explain why it's important to look after your silver. 
It's a chemical reaction in which the metal defends itself and covers itself with a layer of silver sulphide (responsible for the black colour). This happens naturally when silver comes into contact with certain particles of sulphur (present in food) and chlorine.  
Result: if your silver is not cleaned regularly, it risks losing its shine, changing colour and turning black. Fortunately, there are solutions to remedy this. 
How to store silverware? 
So that you can use your silver straight away when you need it, it's important to opt for a proper storage after cleaning.
Exposure to air and light is not good bedfellows for silver. These two elements accelerate oxidation and silver can quickly turn black again. This is why Hagerty advises you to store cutlery, trays, carafes and other silver items in boxes, cases or storage pouches to protect them effectively from knocks and scratches and to slow down oxidation.
You can store your antique silver in two different ways. Firstly, to store and protect your silver perfectly, you can buy a wooden box or case (often sold with the cutlery set) which has dividers to prevent the surfaces from touching.
Then there are cases made from antioxidant fabric, which help to preserve the shine of your silver and silver-plated objects over time. This option takes up less space on your shelf than a silver story box and is just as effective. 
To achieve this, Hagerty has developed 2 types of protective covers made from very high-quality fabric, impregnated against oxidation:
Hagerty Silver Guard - Cutlery Rolls : protective cover for silver cutlery 
Find 8 different pouches, suitable for all types of cutlery, offering protection for forks, knives, spoons and other silver tableware. Each pouch can hold 12 pieces and has been sewn with dividers so that the cutlery doesn't touch each other, preventing it from getting scratched. 
Once cleaned, we recommend that you store your silverware in this type of pouch, to preserve its original shine and prevent the cutlery from darkening too quickly. This way, your pieces are ready to be used straight away.
You can choose the cover to suit your needs: 
- Table forks
- Table knives
- Table spoons
- Fruit and dessert forks
- Fruit / dessert knives
- Fruit and dessert spoons
- Coffee spoons 
- Serving utensils (ladle, salad servers, fork, etc.) - holds up to 5 pieces
Hagerty Silver Guard - Holloware Bags : protective covers for silver objects 
If you have trays, carafes or other silver or silver-plated metal objects, we strongly advise you to also store them in a protective bag impregnated against oxidation. 
Hagerty has developed 3 different sizes, so you can choose the one you need to look after your silverware:
- Small tray - 30 x 30 cm
- Medium tray - 40 x 40 cm
- Large tray - 45 x 65 cm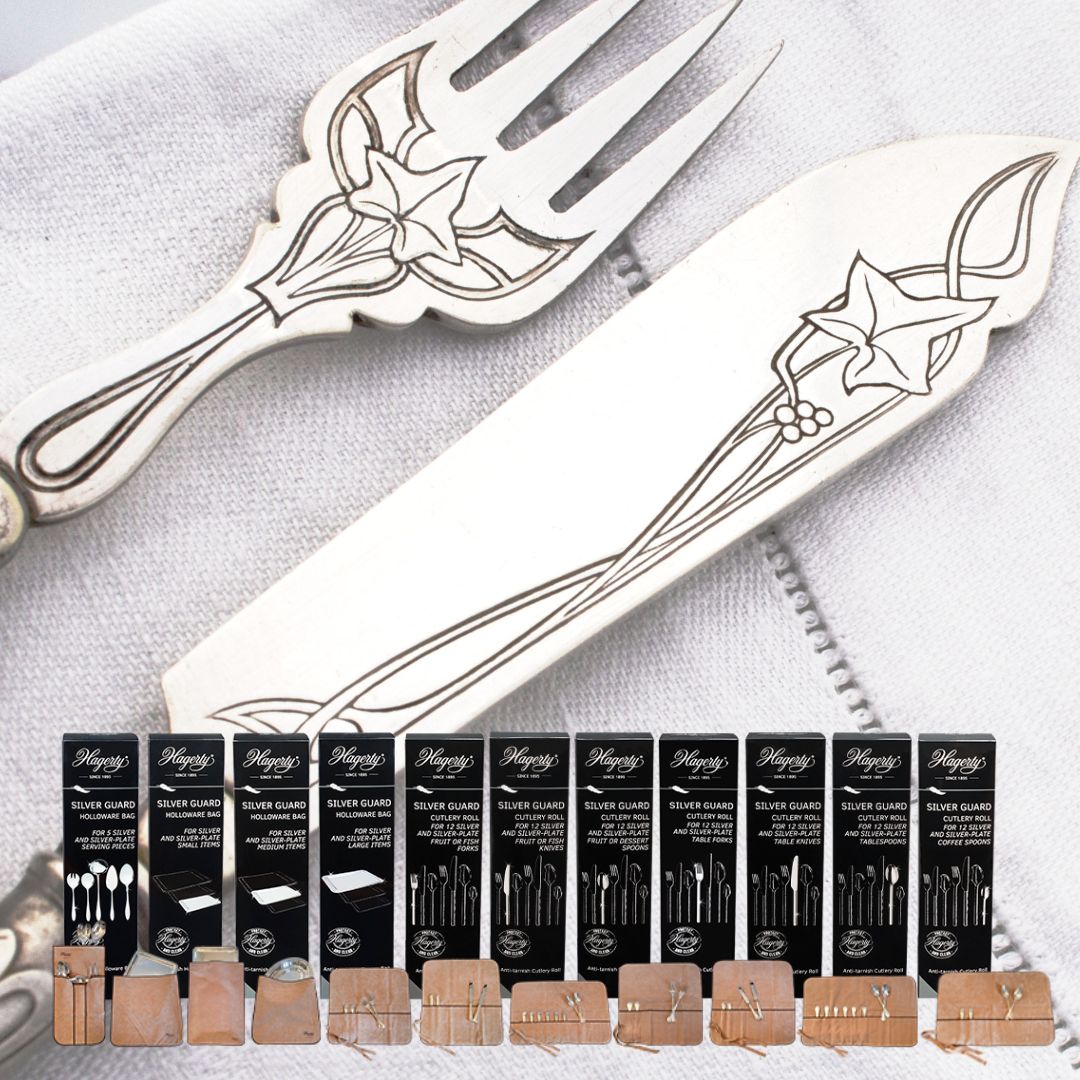 How to remove oxidation from silver objects?
Silver items tend to oxidise quickly and turn black if they are not properly protected from air and light. So how do you clean oxidised silver cutlery and trays?
Cleaning silver in the dishwasher 
The easiest way to clean silverware is to put it in the washing machine and add a little washing-up liquid to get it clean and shiny again.
Some modern items can be put in the dishwasher, but liquid gel should be avoided at all costs, as it may contain chlorine and could cause black spots on contact with the silver. The same goes for detergents containing citrus fruit. Instead, use a chlorine-free washing powder or a natural, non-abrasive detergent.
Make sure you separate silver cutlery from all other metals. To do this, place silver and steel cutlery in separate baskets, as well as knives with steel blades.
As soon as the cycle is complete, open the dishwasher door quickly to allow the steam to evaporate quickly, then hand-dry your pieces using a clean, dry and soft cloth.
Be careful, however, about the type of cutlery you wish to wash. Gold-plated cutlery should only be washed by hand, as should objects made of wood or precious stones.
In short, to avoid ruining your silverware in one wash cycle, we advise you to avoid cleaning it in the washing machine.
Grandma's recipes for cleaning silver 
Baking soda, white vinegar, aluminium foil or toothpaste - these are the essentials for making silver sparkle, according to grandma's tricks. These inexpensive methods can be very costly if used incorrectly.
For example, you may read that lining a dish with aluminium foil and then pouring a mixture of warm water and coarse salt over it will remove black spots caused by oxidation. Sure, it may work, but your silver will probably turn dull again soon afterwards.
As experts in silver care, Hagerty does not recommend the use of household products, as they are not specifically designed for silver care. 
Silverware cleaners
Hagerty has been developing and marketing silver care products since 1895. In over 125 years, the company has created 7 products for cleaning silver objects, each specific to the type of object to be cleaned.
Its unique formulas are designed to make cleaning a pleasure and to restore the shine of your objects with ease.
Discover below the three products specially dedicated to cleaning tableware. 
Silver cleaning paste
Hagerty Silver Care is a cleaner specially designed to care for silver tableware. 
Thanks to the sponge supplied with the jar, you'll be able to scrub well and remove any oxidation present on the surface. Its fast-acting action makes it particularly useful for caring for dishes, trays or other silver or silver-plated metal objects that are regularly used for serving.
Silver and multimetal cleaning foam 
Hagerty Silver & Multimetal Foam cleans silver, silver plate, pewter and steel. 
Easily remove dirt from silverware with this foaming paste and the sponge supplied. You will be able to rub away oxidation from your pieces.
We advise you to use this product if you want to restore the shine to silver objects with a worn silver coating. 
Silver cleaning bath 
Hagerty Silver Bath gives your silverware a deep clean by completely immersing silver cutlery in it. 
The formula quickly removes tarnish and protects against oxidation for several weeks. This cleaning product is very easy to use and contains a basket in which you can easily place your silverware (height of the pot: 21cm). The oxidation disappears and your objects become shiny again in just a few minutes.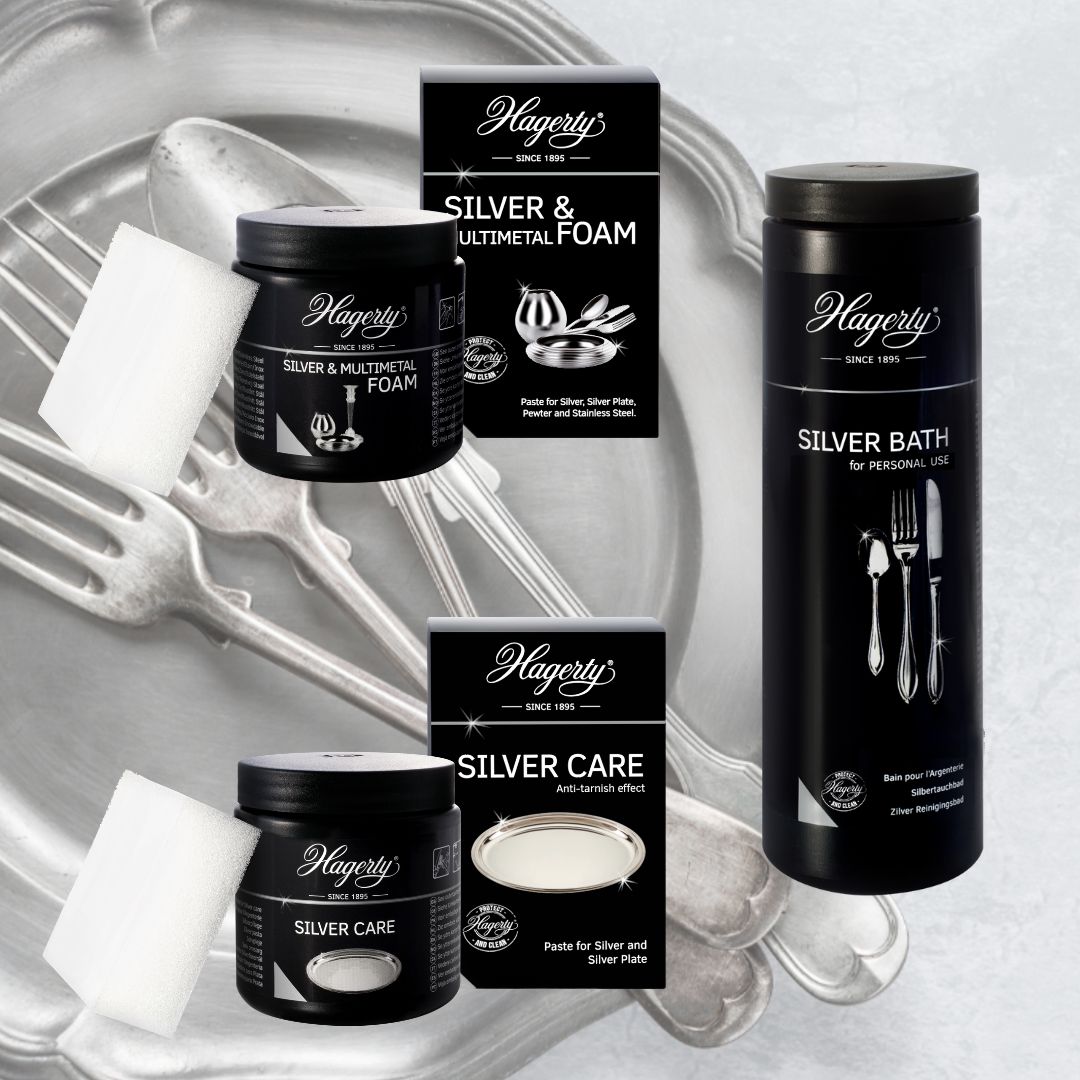 All the above products have an almost instant effect and do not cause any micro-scratches on the metal. Your silver objects will be clean and shiny again in no time!
If you have any further questions, please don't hesitate to contact us directly: hagerty@hagerty.world